Saturday 1st of June was International Children's Day and we made the most out of it with ours. We set out on the 9.45 train to Charring Cross and reached our destiny, Trafalgar Square, just after 10, not bad considering the two kids under 4 and all the kit we have to ensure we take!
As instructed by our card (you can click on it to zoom and read it) we took entrance at The National Portrait Gallery via the gift shop (as we do!) and bought ourselves some postcards of famous people that are meaningful to us (and a bear!) and we also found a super lovely book to read to the girls, one of Amelie's favourite TV characters – Charlie and Lola.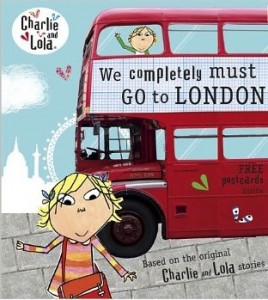 Postcards in hand we set off to find the real portraits but I must say we failed miserably and have only found one…
We had a great time though and Amelie was looking around and enjoying the silence and just taking in the colours and we did some reading and got impressed all over again with some of the portraits. George Catlin's American Indian Portraits exhibition is on at the moment until the 23rd of June and we strongly recommend those who are in London to go and have a look, it's really striking and the writing up on each portrait is actually quite informative and interesting.
There is also a display of Jacob Epstein: Portrait Sculptor whose work is really amazing and worth going around to see. I particularly like the bust that Hitchcock commissioned because he felt guilty from making money out of a friend! Gotta love Hitch!
We took exit via the gift shop (because it's the disabled access, ahem!) and purchased yet another book – National Portrait Gallery Kings & Queens - which I hope to get around to reading this year still…
We skipped St Martin-in-the-Fields as we had been there before and it was really busy with turists by the time we finished at the National Portrait Gallery. The cafeteria is indeed worth the visit for lunch as the food is good and well priced and the church itself is quite spectacular. There is usually some sort of music being played as many concerts are hosted there and so often rehearsals are taking place during the day.
We took a detour from our card and went to Cafe Rouge in Leicester Square for lunch, which is a new one and not only looks great but it also has loads of space and they were very accommodating to the double buggy. We also went to Liberty (which is one of our favourite shops!) and bought some overpriced cards because they are beautiful!
Way back via Trafalgar square and it wasn't Tay-Sachs or underage that stopped us from climbing on the lions or chase pigions but actually the several demonstrations that were taking place that day alongside street entertainers, so we crossed it and made our way home – both kids asleep by the time we got back on the train.
Well worth it, full of culture (more than my brain can currently process hence the book purchase) and strongly recommended!
Can't wait for this Saturday's adventure which is still to be drawn and grandma is coming along so, stay tunned!